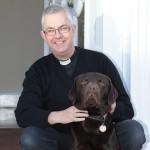 Welcome to Parish of Christ the King. The parish has two churches Christ the King & Our Lady of Lourdes and St Augustine's.  The parish history can be found under 'About' in the menu at the top of this page. Our website has just been updated and has gone live as of St Patrick's day!! The old website can still be accessed by clicking on the following link. I hope you like the new look. It is much more user friendly for those using tablets and mobile phones. We also welcome those joining us online over the internet. Christ the King church is open everyday from 7am until 8pm. Please try and pop in. This website has information about what goes on in the parish as well as information about our schools. Any comments or feedback please email me. Canon Tom Farrell. Parish Priest. father-tom@ctk-cov.org..uk
Parish Prayer
God our Father you call us together to make our Parish a sign of the heavenly kingdom. Help us through this Church and our lives To be a fountain of faith, a beacon of hope And a haven of charity and prayer. We ask these prayers through Christ Our Lord. Amen.
This week we pray for…..
Those who have died including,  Michael Rixon.
We  pray for those preparing for Baptism: Riley James Conniff, Riley-Rhys Markey and Grayson Patrick McKervey.
Thoughts for Holy Week – Sister Ruth
The last week of Lent and the beginning of the Great Three Days.The Mass readings, beginning with the Passion on Palm Sunday, speak of pain and suffering.   The sufferings of the Servant are foretold by the prophet Isaiah. We listen to its pain.  Holy week is not just thinking about what Jesus suffered for us, not just a walk down memory lane.It is a time to become engaged in the journey Jesus is on and to make connections with our own journey and the pain and suffering in the world.
Isaiah writes of the Suffering Servant who does not turn back from witnessing to the Word of God however much it costs him.   We see Jesus struggling in the Garden of Gethsemane. He begs his disciples to stay with him in his distress.  They don't.  Jesus does not want to suffer, any more than we do. "Father, if it is possible, let this cup pass from me … Yet, not as I will, but as you will".   We ask 'why does God allow suffering?'  Jesus enters that mystery with us and goes on his way to the cross.
Holy Week is a good time to enter into the pain of our own sufferings. What seems unbearable in my own life? What is challenging me?    How do I deal with it?  If I am fortunate I will have friends or family to accompany me. Maybe not.Jesus' closest friends were asleep as he struggled – one betrayed him, one denied him, others ran away.  It can happen to me. Jesus brought his anxiety, his sorrow,  his fear to God, praying. Then, as he had done all his life, he handed himself over into God's hands. The suffering was not taken away, 'My God, my God why have you forsaken me?' (Psalm 22)  Jesus endured it in the faith he had lived, that God is with him and that his life means more than suffering.    "O Lord, be not far away, you are my strength; hasten to help me" – this is Psalm 22 again as it rises to its final cry –  "Praise the Lord… for he does not despise the poor in their poverty, neither does he hide his face from them, but when they cry he hears them."   We know that God transformed the passion and suffering of Jesus into new life.This is a good week to acknowledge and name the suffering and cross in my own life and bring it to God in faith.
It is a good week also to face in to the sufferings of others – not to leave our friends and acquaintances who have burdens to bear, reaching out, in however small a way, to those who are suffering in our own parish or work community.
And then there is the pain and suffering throughout the world that we hear of briefly through the media and then forget.  But the suffering goes on – starving refugees from Syria, civil wars in Africa, grieving parents, those whose homes have been destroyed by floods or wind or fire or terrorist… the list is endless. Remember them, be with them in spirit, as we enter into the passion of Jesus and pray that they too may know resurrection. 
(with acknowledgement for some of these thoughts to Roger Schroeder SVD)
Annual Parish Report 2013/14
Coming soon …..
Holy Week 2014
Christ the King
Holy Thursday  17th April 7.30pm Mass of the Last Supper, Washing of Feet and Watching until Midnight.
Good Friday 18th April 3pm Solemn Liturgy of the Passion. 7.00 pm Stations and Veneration of the Cross.
Holy Saturday 19th April 8pm Easter Vigil.
Easter Sunday 20th April Mass at 9am, 12 noon.
St. Augustine's
Good Friday 18th April 3pm Mass of the Last Supper, 7.00 pm Stations and Veneration of the Cross.

Easter Sunday 20th April Mass at 10.30am.
Seán Cannon from The Dubliners at Christ the King
Seán Cannon From The Dubliners will be performing with his sons as 'The Cannons' at Christ the King Parish Centre on Easter Sunday 20th April from 8pm. With support from Ian Finnegan. £5 Tickets available from behind the bar.
Lent 2014
What's on  link  Lenten Retreat in Daily Life  link
Future Dates
First Holy Communions  Christ the King – Saturday 17th May @ 11 am & 12 Noon
Ascension – Sunday 1st June
First Holy Communion  St Augustine's – Saturday 7th June  @10am
Gift Aid

Gift Aid 2014. Thanks to all who support our Gift Aid scheme. Envelopes now available.
Christ the King Amateur Boxing Club

Christ the King ABC hosted a Boxing Tournament on Friday 4th April at Christ the King Centre.

Stations of the Cross at the Colosseum

This evening, Good Friday, at 9.10pm local time, after the celebration of the Passion of Our Lord at St Peter's Basilica, Pope Francis will lead the Stations of the Cross, at the Colosseum in Rome.   This year, the meditations, entitled 'the Face of Christ the Way of Man' were written by Mgr Giancarlo Maria Bregantini, Archbishop of Campobasso […]

Pope Francis: 'Serve one another in love'

In a gesture of humility and service, and in imitation of Christ, Pope Francis put on an apron and knelt down to wash the feet of 12 residents of the Santa Maria della Provvidenza care home for people with disabilities, during the Mass of the Lord's Supper, on Thursday evening. Visibly fatigued and requiring assistance to kneel and stand up again as he came […]

Cardinal Nichols washes feet of Chelsea Pensioners

This evening - Maundy Thursday - Cardinal Vincent Nichols, Archbishop of Westminster, celebrated the Mass of the Lord's Supper at Westminster Cathedral. The Mass remembers Christ's washing of his disciple's feet and his institution of the Eucharist at the Last Supper; in commemoration of Jesus's act Cardinal Vincent washed the feet of 12 Chelsea Pensioners a […]