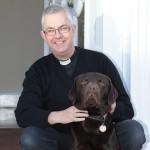 Welcome to Parish of Christ the King. The parish has two churches Christ the King & Our Lady of Lourdes and St Augustine's.  The parish history can be found under 'About' in the menu at the top of this page. Christ the King church is open everyday from 7am until 8pm. Please try and pop in. This website has information about what goes on in the parish as well as information about our schools. (old website link) Also welcome to those joining us over the internet watching our services live at Christ the King and St. Augustine's. Any comments or feedback please call or email.
Canon Tom Farrell. Parish Priest. father-tom@ctk-cov.org..uk 
Parish Prayer
God our Father you call us together to make our Parish a sign of the heavenly kingdom. Help us through this Church and our lives To be a fountain of faith, a beacon of hope And a haven of charity and prayer. We ask these prayers through Christ Our Lord. Amen.
Maundy Thursday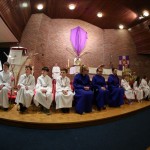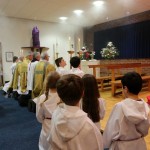 Photos link
Lenten Retreat 2015
Sunday 22nd March- Tuesday 24th March A Retreat in Daily Life
Photos link
Keen to build on the success of last year's successful 5 day Lenten Retreat at Christ the King Coventry, was key to this year's . So with this in mind Canon Tom Farrell (Parish Priest) supported by his assistant Father Andrew Franklin set about planning this year's retreat.  The retreat allowed for living your daily routine, with the opportunity for prayer each evening.  It reached out to those who may not have the time to go away. The retreat was spread over 3  consecutive days, starting on a Sunday afternoon. Leaflets were printed care of ABC PRINT were distributed to all parishes and schools in Coventry.
On Sunday 22nd March at 4pm a Service of Healing with Anointing and Benediction was held. The preacher was Fr Michael Stack, the Hospital Chaplain the University Hospital Coventry & Warwickshire. He spoke moving about many of his experiences as hospital chaplain with over 20 years' experience. Following this many of those in the congregation were anointed.
On  Monday 23rd,March at  7pm David McLoughlin, a Senior Lecturer at  Newman University gave a talk on 'The Call to Follow Jesus'. He then  distributed a leaflet on a Daily Examen a technique of prayerful reflection on the events of the day in order to detect God's presence and discern his direction for us.   This was followed by evening prayer led by Father Andrew Franklin. External link Handout An evening examen of consciousness.
On Tuesday 24th March 7pm. David McLoughlin was again the speaker and gave a talk called 'Being a Disciple'. In this talk he described how the Beatitudes can be thought of as our Magna Carta 'The Charter of the Disciples'. This was followed by evening prayer led by the Christ the King Youth group led by Carmel Keane. The Youth Group also distributed a card with a prayer called 'Love Chooses You…'
David McLoughlin mentioned that he had taught both Canon Tom and Father Andrew. Following all the talk refreshments were served in the Library enabling the speakers to answer questions. Speaking with Fr Tom he said was pleased with how this year's retreat was supported and he already had ideas for next year's retreat, and he hoped the retreat would prepare those who attended for the Easter.
Deanery Visitation Closing Mass
7pm 11th March 2015. Photos from Mass and report link  Bishop Kenney Report link Youtube (pictures to music)  link
A Walk with a Minion of Satan Paperback book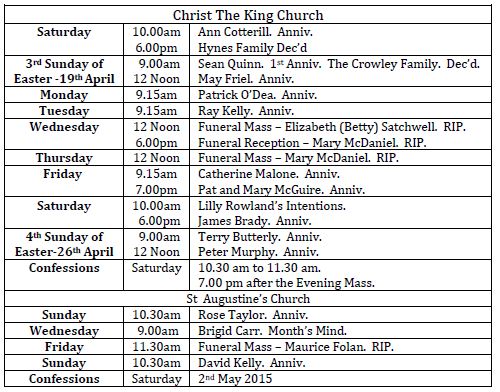 Newsletter 19th April  5&12th April Finance meeting minutes: 26th March Annual Parish Report:  2013/14
Subscribe for weekly newsletter via email link  Subscribe for Faith email link    CTK Stations of the Cross link
General Election 2015. Catholics across England and Wales are asked to engage with the General Election that will take place on Thursday, 7 May 2015. It is up to each person how they vote and voting should seldom, if ever, be based on a single issue. However, 'As Catholics we are called to work for a world shaped by the Gospel of Jesus Christ'. Letter,  Read more
This week we pray for…..
Those recently deceased: Betty Satchwell, Mary McDaniel and Maurice Folan May. May they rest in peace.
Those preparing for Baptism: Harry Kieran Meredith, Tory-Ray Miller Chadwick, Daisy Elizabeth Hands, Finlay Joseph Kearns.
We pray for those preparing for Marriage: Rachel Wareham and Martin Cashmore.
Fr Anthony Sims 1924-2015 RIP article link
Christ the King  photos link,  layout link
St Augustine's photos link
Online prayer requests link.  Send your Prayer Requests to be displayed online link.
Christ the King Boxing Club
Christ the King Boxing Club is now accepting new members  The Boxing Club meets each week at St Augustine's Sport Centre.  Members have to be aged between 9 years and 18. Further details available from Brendan Malone on 07950 690122 and Colm Doherty on 07814 882236.
Medjugorje 9- 16 June 2015, 13-20 October 2015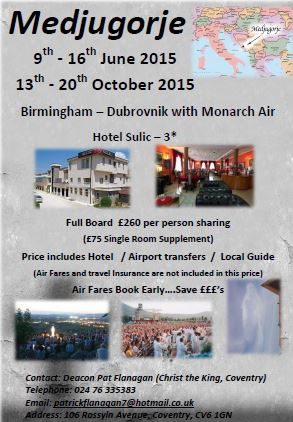 Birmingham – Dubrovnik with Monarch Air
Hoel Sulic – 3* Full Board – £260 per person sharing, £75 single room Supplement
Price includes: Hotel / Airport transfer / Local Guide.  Air Fares and Travel Insurance are not included in this price.
Air Fares book early Save ££££!!!!
Contact: Deacon Pat Flanagan (Christ the King, Coventry), 024 76 335383
Patrickflanagan7@hotmail.co.uk 106 ROossyln Avenue, Coventry, CV6 1GN
Poster Medjugore leaflet
Christ the King Football Team
Christ the King Football Club will be holding their 70th Anniversary celebratory dinner on Saturday, November 12th, 2016, the venue for the event will be the Royal Court Hotel. There will be other events throughout that year starting with a mass in January, dates etc will follow in due course. Contact James Brown for more information email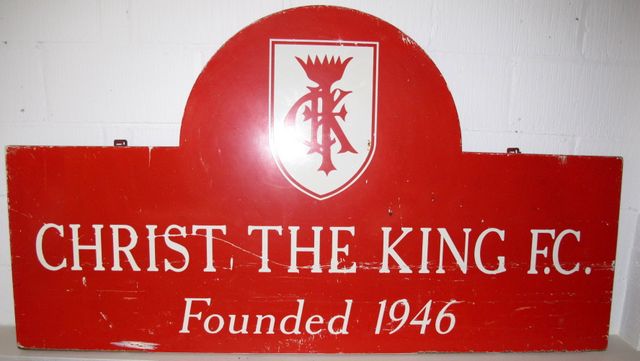 Lent 2015
Lent is a very special season and a real opportunity for us to renew our relationships with Almighty God and each other. Following the success of last year's Parish Retreat, we have arranged another two day Retreat and Mission. This year, David McLoughlin, Senior Lecturer from Newman University in Birmingham will lead two evenings, on Monday 23rd and Tuesday 24th March. We will send out reminders nearer the time. We will also have our service of Healing and Anointing on Sunday 22nd March and will open this up to other Parishes. During Lent we will have a full programme of events to help us make the most of the Season. We have the "Walk with Me" Prayer Books and Calendars to use each day. It is better to commit to one thing each week and keep to that, rather than taking on too much. There are things on most evenings for those at work during the day, as well as the early morning Masses at 7am (Breakfast to follow). Stations with the school children on Friday afternoons in Church is also very moving. This will be during term time at 2.30pm in both St Augustine's and at Christ the King.
Full details Lent 2015
Talks on Catholic Faith September 2014 – March 2015
Poster – Talks on the Faith 2014-15
The Course is made up of 15 Units with Talks and DVD presentations. Units 1—6 September to Christmas Break, Units 7—15 After  Christmas to Easter at Christ the King
Units, Date
1. The Sacraments, 24th September
2. Baptism, 8th October
3. Confirmation, 22nd October
4. The Eucharist, 5th November
5. The God of Scripture, 19th November
6. The Father's Promise, 3rd December
Christmas Break
7. Jesus Our Saviour, 14th January
8. Children of God, 21st January
9. Living our Faith, 28th January
10. St Benedict, 4th February
11. St Francis of Assissi, 11th February
12. St Ignatius of Loyol,a 25th February
13. St Catherine of Sienna, 4th March
14. St Patrick, 18th March
15. St Therese of Lisieux, 25th March
Easter & Reception of New Catholics into Church
Please consider this course. It is suitable for those wishing to join the Catholic Church, but also for any Catholic wanting to grow in the knowledge of their faith. Especially helpful for Catholic Teachers.
Parish pilgrimage to the Holy Land in September 2014
"Probably the best pilgrimage we have done" that was Fr Tom's verdict on the parish pilgrimage to the Holy Land in September 2014…..link
Confirmation 21st June 2014
Photos link, youtube video link:
Pilgrimage to Krakov June 2014
About link  Photos link Photos by Francis McManus link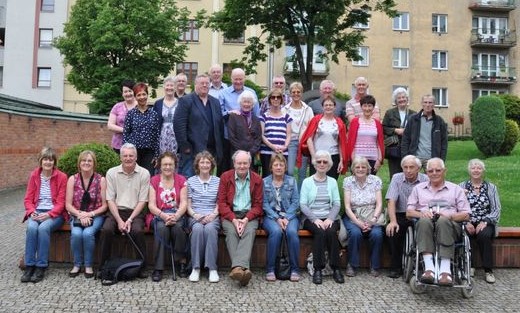 Plymouth: Bishop asks diocese to 'storm heaven' for vocations

In a Pastoral Letter to be read in all the churches of the Diocese on the weekend of 25/26 April, the Rt Rev Mark O'Toole, Bishop of Plymouth, challenges all in the Diocese to promote priestly vocations. Bishop Mark writes: "Is God calling fewer people? I think not. God is still calling; but many are […]

London: Pimlico parish achieves LiveSimply Award

Holy Apostles in Pimlico has become the nineteenth parish in England and Wales, and the third in Westminster Diocese, to be awarded the LiveSimply parish award for its commitment to live more simply and sustainably and in solidarity with the world's poor. The LiveSimply Award, a national prize for Catholic parishes putting their faith into […]

Turkey: Church to mark anniversary of Armenian Genocide

The Armenian Patriarchate of Constantinople, will soon commemorate the 100th anniversary of the systematic massacres of the Armenian people which began on 24 April, 1915 with the roundup and killing of hundreds of Armenian intellectuals, living in Istanbul. A Mass presided over by the Patriarchal Vicar Aram Ateshian, will be celebrated in the church of […]