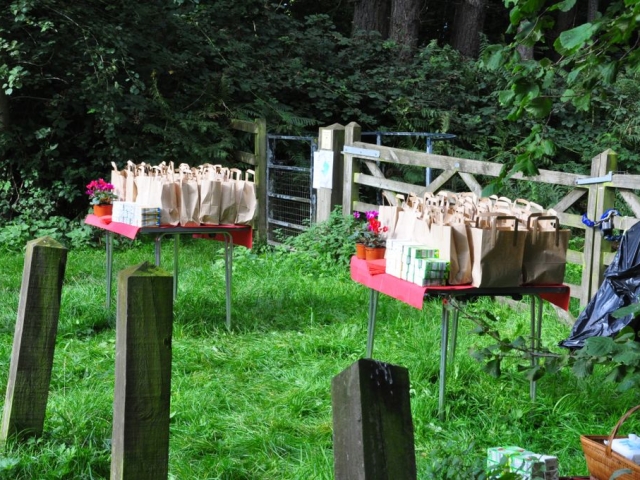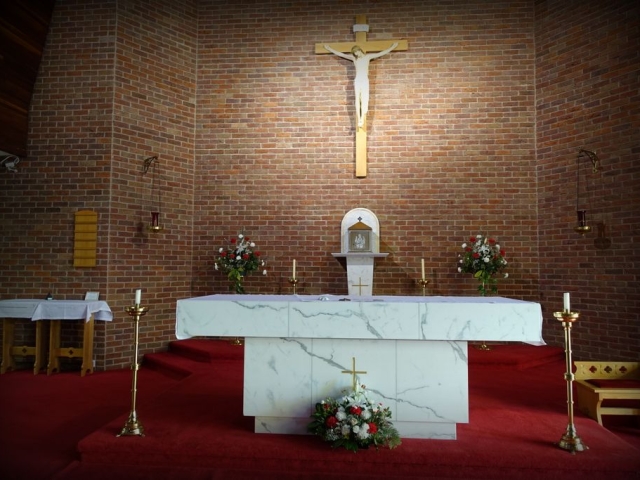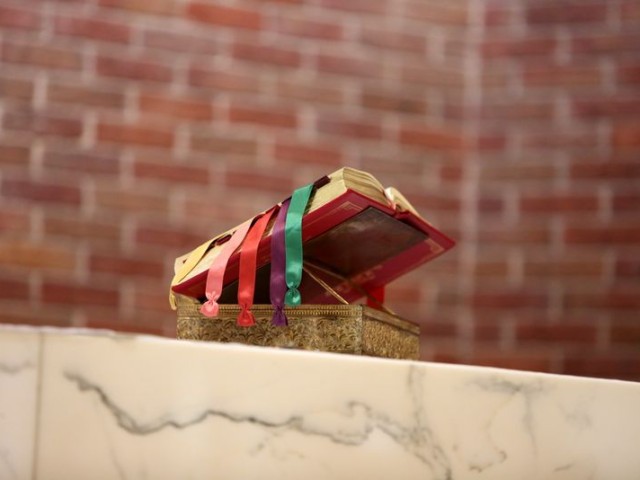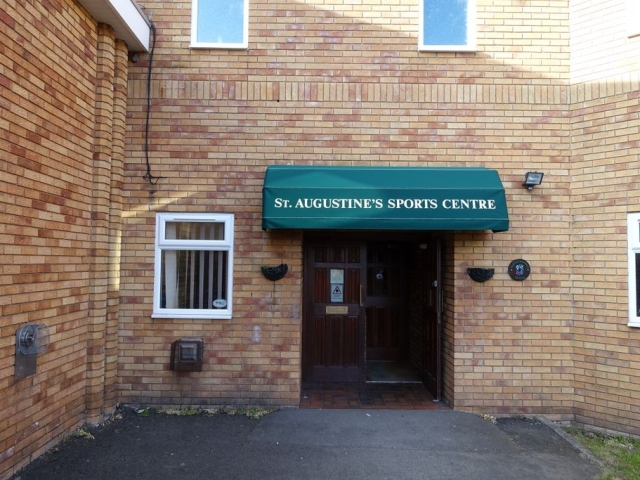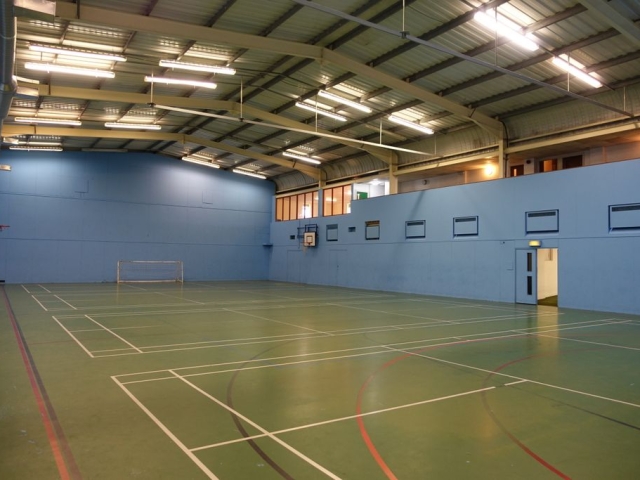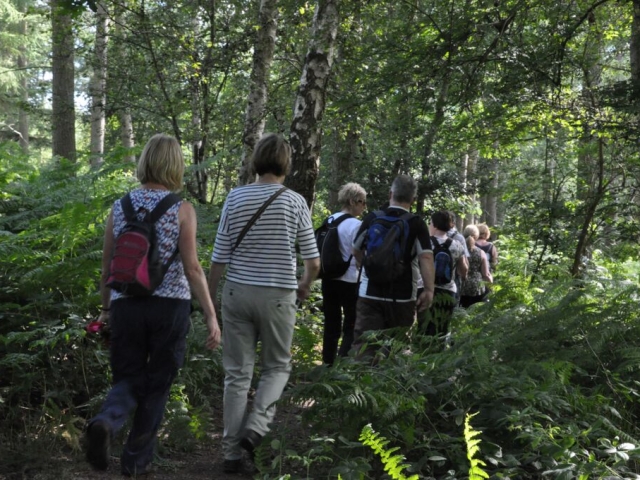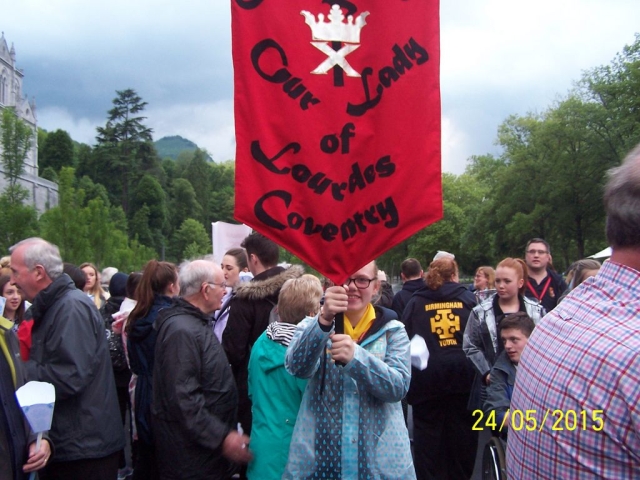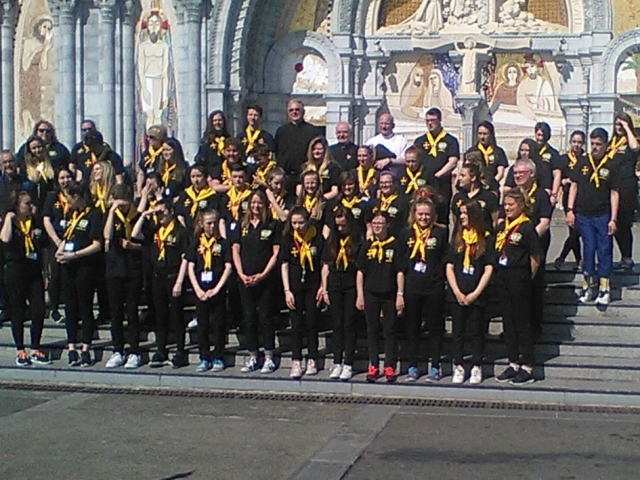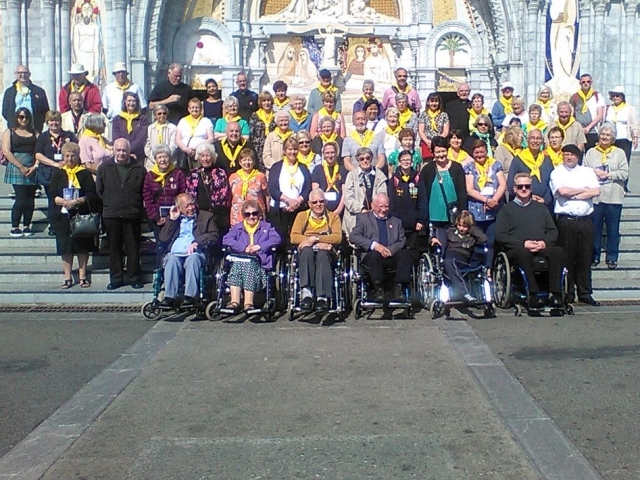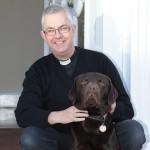 Welcome to Parish of Christ the King. The parish has two churches Christ the King & Our Lady of Lourdes and St Augustine's.  The parish history can be found under 'About' in the menu at the top of this page. Christ the King church is open everyday from 7am until 8pm. Please try and pop in. This website has information about what goes on in the parish as well as information about our schools. (old website link) Also welcome to those joining us over the internet watching our services live at Christ the King and St. Augustine's. Any comments or feedback please call or email.
Canon Tom Farrell. Parish Priest. father-tom@ctk-cov.org..uk 
Parish Prayer
God our Father you call us together to make our Parish a sign of the heavenly kingdom. Help us through this Church and our lives To be a fountain of faith, a beacon of hope And a haven of charity and prayer. We ask these prayers through Christ Our Lord. Amen.
A course on the Catholic Faith at Christ the King
Leaflet pdf

2015-2016 Wednesdays 7.00pm—8.00pm
Revelation and the Bible – 23rd September 2015
God the Father and God the Son – 7th October 2015
Holy Spirit and Early Church  – 21st October 2015
Sacraments and Faith – 4th November 2015
Baptism and Confirmation – 18th November 2015
Eucharist and Penance – 2nd December 2015
 Christmas Break
Marriage and Priesthood – 13rd January 2016
Our Lady and the Saints  – 27th January 2016
Sacrament of the Sick and the Ministry of all Christians – 10th February 2016
The Kingdom and the Call to Justice  – 24th February 2016
Easter
Reception of New Catholics into Church
Easter Vigil Mass on Saturday 26th March 2016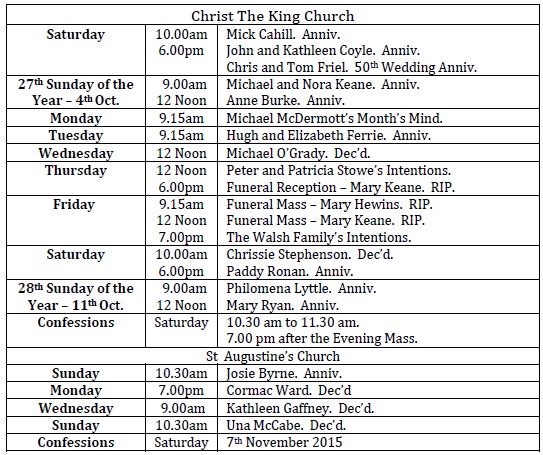 Newsletter 4th October 27th September
Photos from last weekend Sponsored Walk link
Well done to all those who completed the walk.
Parish Summary report for 2014/15
Finance meeting minutes: 18th June, 26th March
Subscribe for weekly newsletter via email link  Subscribe for Faith email link    CTK Stations of the Cross link
Missionary Sisters of the Holy Rosary – Ebola Appeal update from Libera
This week we pray for…..
Those recently deceased: Father Luke Magee, Elsie Hewins and Mary Keane May they rest in peace.
Those preparing for Baptism: Lottie Lucia Nicol, Erin Grace Brennan, Matthew David Jackson.
Christ the King  photos link,  layout link
St Augustine's photos link
Online prayer requests link.  Send your Prayer Requests to be displayed online link.
 Medjugorje  13-20 October 2015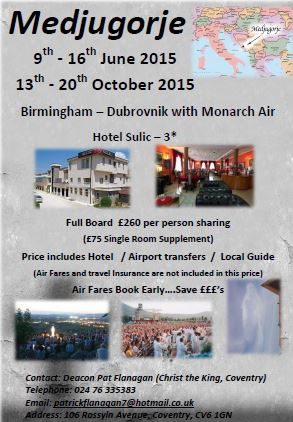 Birmingham – Dubrovnik with Monarch Air
Hoel Sulic – 3* Full Board – £260 per person sharing, £75 single room Supplement
Price includes: Hotel / Airport transfer / Local Guide.  Air Fares and Travel Insurance are not included in this price.
Air Fares book early Save ££££!!!!
Contact: Deacon Pat Flanagan (Christ the King, Coventry), 024 76 335383
Patrickflanagan7@hotmail.co.uk 106 Roossyln Avenue, Coventry, CV6 1GN
Poster Medjugore leaflet
Christ the King Football Team Website link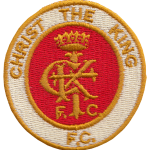 January 22, 2016 @ 7:00 pm – 11:00 pm. Mass at Christ The King – Followed by a reception in the parish centre. All are welcome.
Any Information required please contact: Jim Brown –jamesbrownscotland@yahoo.co.uk  07527 704 242.
Alternatively please contact: D. Parnell –parnell.david36@yahoo.com 07967 496 374
Christ the King Football Club will be holding their 70th Anniversary celebratory dinner on Saturday, November 12th, 2016, the venue for the event will be the Royal Court Hotel. There will be other events throughout that year starting with a mass in January, dates etc will follow in due course. Contact James Brown for more information email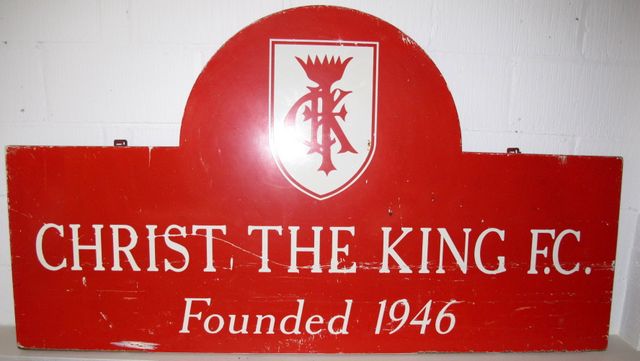 Pope Francis: Respect and listen to your Guardian Angel

Pope Francis says God has given everybody a Guardian Angel to accompany us and offer advice and protection, an Angel to whom we should listen with meekness and respect. He was speaking during his homily at Mass on Friday, the Feast of Guardian Angels, at Casa Santa Marta . The Holy Father reflected on the […]

Sunday Reflection with Fr Robin Gibbons - 4 September 2015

The passage from Mark 10 concerning divorce is not an easy one to hear or fully understand. Anyone listening to it in church or reading it on their own will have an opinion on the matter. But we do not live in the same situations as the Pharisees or Jesus' disciples. We can accept that […]

Ireland: Bishops' 'Day for Life' message: Cherishing Life, Accepting Death

The 'Day for Life' is celebrated each year by the Catholic Church in Ireland, Scotland, and in England & Wales. It is a day dedicated to raising awareness about the meaning and value of human life at every stage, and in every condition. The theme for this year is 'Cherishing Life, Accepting Death', and it […]