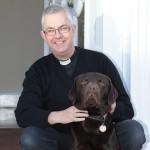 Welcome to Parish of Christ the King. The parish has two churches Christ the King & Our Lady of Lourdes and St Augustine's.  The parish history can be found under 'About' in the menu at the top of this page. Our website has just been updated and has gone live as of St Patrick's day!! The old website can still be accessed by clicking on the following link. I hope you like the new look. It is much more user friendly for those using tablets and mobile phones. We also welcome those joining us online over the internet. Christ the King church is open everyday from 7am until 8pm. Please try and pop in. This website has information about what goes on in the parish as well as information about our schools. Any comments or feedback please email me. 
Wishing you a Happy Easter.
Canon Tom Farrell. Parish Priest. father-tom@ctk-cov.org..uk 
Parish Prayer
God our Father you call us together to make our Parish a sign of the heavenly kingdom. Help us through this Church and our lives To be a fountain of faith, a beacon of hope And a haven of charity and prayer. We ask these prayers through Christ Our Lord. Amen.
This week we pray for…..
Those who have died including,  Tony Leigh.
We  pray for those preparing for Baptism: Oliver James Weir.
T
he Joy of the Gospel - Easter Vows – Sister Ruth
Do you renounce Satan…?   I DO.   Do you believe in God…?   I DO
At the heart of the Easter liturgy we, the Christian community, the baptised, together renew our vows.   We are the ones entrusted with spreading God's good news.  At Easter we say 'Yes' again to this commitment.
Who can forget the challenge of 'Hineni' from the 3rd day of our parish retreat? The challenge to say "Here I am, send me" -  to follow the example of our ancestors in faith.   Just think of amazing Abraham – going out from his homeland at God's command without knowing where he was going to – promised a son, and it took for ever happening; asked to sacrifice precious Isaac, the son who was his only hope. (Genesis 12ff,22)    Then Samuel, the little boy who said "Speak Lord your servant is listening" (1 Samuel 3) who would go on to anoint King David – and Isaiah (who actually said 'Hineni'), agreeing to be God's prophet (Isaiah 6).  The prophecies of Isaiah (eg.Is 42:1ff) are fulfilled in Jesus but can also be a blueprint for our own lives as missionaries of Jesus, his Body now on earth.   For each one of us has been called.
No-one can fulfil the mission God has entrusted to me – except me.  It can't be done by the priest or the nuns or the person next door 'who is so much better at that sort of thing than I am". God has created me specifically for something – just as he created Mary to be the mother of God's Son.  No-one could be God's mother but her.   She said 'Yes', otherwise it would not have happened.  It's the same for each of us. 
I have a plaque on my windowsill that says: Ni Ne Hanyar, ni ne Gaskiya, ni ne Rai – I am the Way, the Truth and the Life in one of the languages I prayed in in Africa.         'Ni Ne' – I Am – the name of God.   'Hineni' in Hebrew,   'Here I am'.  The mission God has created me for is part of who I am.
How fitting that the 4th day of our retreat was about Baptism when we take on our Mission.  Every person made in God's image is infinitely loved and designed with a purpose.      When we are baptised we – or our parents – claim God's gift and purpose for us – to be prophet, priest and king,  God's representatives  in our own environment, each with our own special mission.
So let's talk about Mission.   We share the gospel by the way we live our lives, yes.  But there is more – especially nowadays when many people know so little about Christianity.  We can be quite cagey about talking about our faith – but this is what Pope Francis is encouraging us to do.  'Don't be afraid' he says, of breaking the rules, of not getting it right, – your job is share the joy of being one with Christ.   Don't be tied up in structures – what you have to do is, carry out Jesus Christ's command "Give them something to eat'.  The only thing you have to be afraid of is 'being tied up in structures' (EG49).
Francis says the primary proclamation we have to make, is "Jesus Christ loves you; he gave his life to save you; and now he is living at your side every day to enlighten, strengthen and free you."(EG164)
Perhaps there are fewer people going to Church but Pope Francis tells us "your job is not to save the Church.  It is sharing the love of God – sharing the warmth and passion of the everlasting love of the Trinity" – the Father, the Son and the Spirit.    What is it that makes you happy to be a Christian?   Share that. Each of us has our strong suit. Francis tells us not to be too pre-occupied with liturgy and doctrine.  The main thing is "to ensure that the gospel has impact on people and addresses their needs".
How are we at that? Ourselves?  How are we as a parish?  One of our carers asked me which Church we go to.  I said Christ the King – ' I like that church' she says – you see people of all ages going in and out and talking together afterwards. I told this to someone the other day and she said "But is it a real community or just groups of friends chatting?"  So how is it? – are we a community? Or are we open to others or cliquey ? Are strangers welcome or do we just talk to our friends? Do we just sit at our own tables at parish parties – or include people on their own? These are mission questions.
Each parish needs to ask: 'Does we, as parish, express God's love for everyone and especially those who are in any way poor?'  We in CKC are surely trying – donating gifts for refugees, the food bank, toddlers' mornings, pastoral care and justice groups, the Credit Union, etc etc. (Are you involved?) And we go on trying – that's the important thing.   One thing's certain, that carer I mentioned really saw signs of joy at our church.
Joy   – the Joy of the Gospel – 'Behold I bring you tidings of great joy' – the angel said. We have just completed the 'joyful celebration of Lent', and are wishing each other Easter Joy. For many people circumstances may not be all that happy but we can still exude joy.  Pope Francis says he finds it often in people who have very little.  My own father who died at 94, was widowed, deaf and almost blind but in love with God. Just his smile lit up many people's lives.  There are people I meet in this parish who give you a sense of underlying joy – you will know such people yourselves.
One of the great gifts we Christians should have to share with others is our joy.  How can we not be joyful even in difficult times – with faith in a God who is always present and always loves each of us 'with a tenderness that never disappoints but is always capable of restoring our joy' (that's Francis again)….(EG3)  'The gospel radiant with the glory of Christ's cross constantly invites us to rejoice' (EG5).  
"Joy is the gigantic secret of Christians"  said G.K.Chesteron  
Our week was called a Retreat.  I heard some calling it a Mission – it was in a way – but it was more than a mission addressed to us, to improve our Christian lives – It was a Missioning, concluding with Mass – "Go, you are sent forth.  Thanks be to God"    Now we are beginning the 50 days of Easter taking us to Pentecost. Then we will hear Jesus again commissioning us, his disciples, "Peace be with you. As the Father sent me, so I am sending you." (John 20:21)
Annual Parish Report 2013/14
Coming soon …..
Lent 2014 at Christ the King
About the Lenten Retreat in Daily Life with photographs link What was on  link  
Future Dates
First Holy Communions  Christ the King – Saturday 17th May @ 11 am & 12 Noon
Ascension – Sunday 1st June
First Holy Communion  St Augustine's – Saturday 7th June  @10am
Gift Aid

Gift Aid 2014. Thanks to all who support our Gift Aid scheme. Envelopes now available.
Christ the King Amateur Boxing Club

Christ the King ABC hosted a Boxing Tournament on Friday 4th April at Christ the King Centre.

Archbishop of Canterbury blogs on British society 'shaped and founded on Christianity'

Archbishop Justin Welby has contributed to the current debate about whether Britain is a Christian country, saying that society's laws and values "have been shaped and founded on Christianity". Archbishop Justin writes on his blog today (Thursday): "It is a historical fact (perhaps unwelcome to some, but true) that our main systems of ethics, the way we do l

Pope Francis: There are 'bat-like Christians' who prefer shadows to the light of the Lord

Pope Francis said there are Christians who are afraid of the joy of Christ's resurrection and who instead prefer sadness and staying in the shadows just like bats. The importance of Christians being joyful, rather than sad or fearful, was the focus of the Pope's reflections during his homily at Thursday's Mass celebrated in the Santa Marta residenc

Background to canonisation of Pope John XXIII and Pope John Paul II

The canonisations of Pope John XXIII and Pope John Paul II April 27 will mark a historic moment for the Catholic Church. To explore the meaning of the lives of these modern-day spiritual heroes, the US Bishops media office have published a special feature on their website which includes biographies of the two Popes, links to their writings and encyclicals on