Patrick O'Sullian 
28th March 1929 -18th May 2020. Funeral Mass CTK webcam 9.30 am 12th June 2020. Burial 1.30pm Canley Garden cemetery.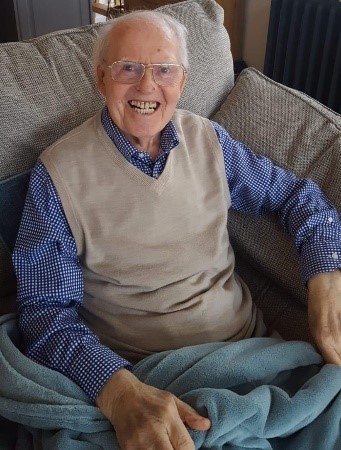 Patrick Joseph O'Sullivan known to most people as Pat or Patsy was born on 28th March 1929 in Galway ,Co Galway .He was the ninth of ten children born to John L and Sarah O'Sullivan.He had 6 sisters and brothers all of whom are deceased. Pat's father died in 1933 and his mother died in 1940 so he and his siblings were looked after by their brother-in-law John Joe who was a widower. After he left school Pat had several jobs one of which was in the foundry in Galway. He liked sports and played hurling and Gaelic football for a few local teams in Galway and was a keen golfer in his later years.  In 1951 when he was 22 years old Pat came over to England for a holiday, to visit his sister Nora who lived in Birmingham and decided to stay. He eventually moved to Coventry where two of his brothers and another sister lived. He stayed in 'digs' with a few Irish families in the Coundon and Radford areas and for a short time with his brothers. Pat had many jobs -he worked on building sites, in factories and in later life was an auxiliary nurse at Hatton Hospital. Over the years he did a lot of work for the parish as he was a member of the CMS and SVP and when he retired he was an altar server for a number of years. He also played football for Christ the King and was club captain and manager for one of the teams for a while.
In 1954 he met Winifred Hargreaves at a dance in Christ the King School hall and they got married on 26th December 1956 at Christ the King Church. They had three children Cecilia, John and Clare and had been married for over 61 years before Winifred died in 2018. Pat was father-in-law to Martin, Sylvia and Mark and his grandchildren Karen, James, Bethany, Joseph, Ellen, Mollie and Euan were very dear to him as were his great grandchildren Iris, Dorothy and Sadie.
Pat died on 18th May 2020 and finally got his wish to be reunited with his 'darling' Winifred
May he rest in peace.
Dorothy Miller
Dorothy died on 7th May 2020. Funeral on Wednesday 27th May.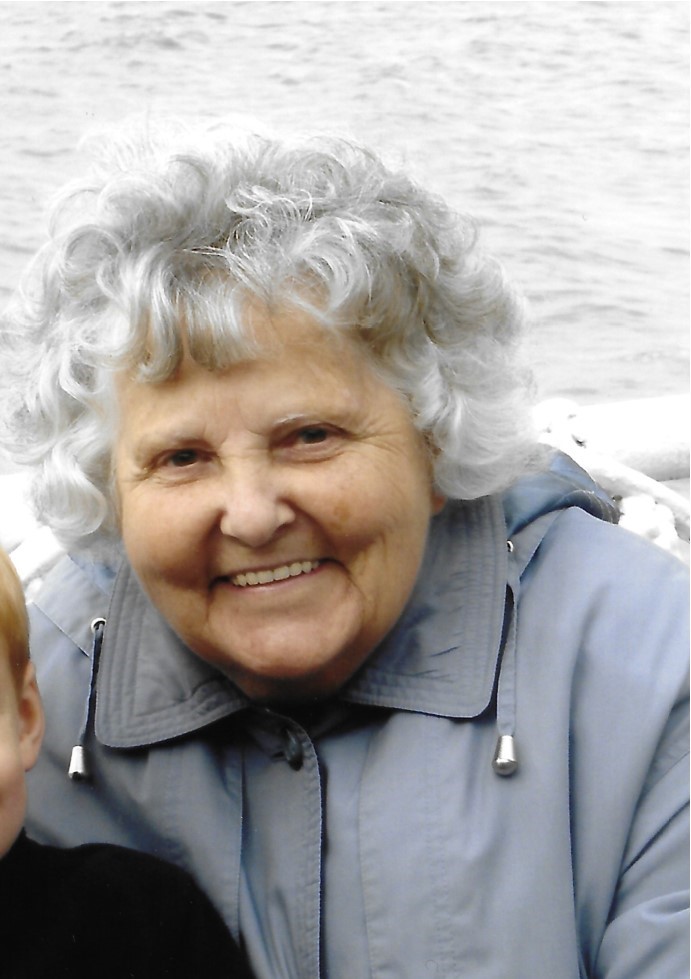 Dorothy was born in London but moved to Coventry with her adopted parents and brother as World War 2 broke out. They settled in Moseley Avenue where she lived for 65 years. She didn't particularly like school and in later life discovered she was dyslexic. She left school at fourteen and discovered her lifelong obsession with children and babies by training as a nursery nurse. She worked at Poole Road Day Nursery and made friends for life.
As her friends started to settle down, she was the natural choice as godmother for their children and as a loving babysitter for her niece and nephew. But she remained single until a holiday in Spain saw her meet Joseph on the beach aged 37. They fell in love and within 4 years were married with two daughters, Louisa and Emma-Jane. They lived in London for 2 years, but came back to Coventry and lived with Dorothy's mother, Monica.
Dorothy gave up work while the children grew up except for waitressing at local hotels in the evenings. But with the girls leaving Christ the King infant school, she was asked by the head mistress to start a play group in the school. This then led to her getting a job as a teaching assistant with the reception class. She was always the person who made the Christmas concert outfits, from Christmas puddings to animals, she spent all November sewing each year.
She was well known in the parish for her hair do. Her bun enthralled the children and she loved to tell them she kept marmalade sandwiches in it like Paddington Bear. She made amazing friends with the staff at the infant school who kept in touch with her all during her later illness.
After Joe died in 1994, she stopped working, but instead helped to prepare the flowers in the church each week. When the girls were married and had children she became a devoted nanna to Chris, Zoe, Ben and Drew. She spent hours in imagination play from driving a bus to serving food. The grandchildren adored her.
Unfortunately her memory started to deteriorate and she was diagnosed with Altzheimers. She was cared for at the Knowles Care Home for the last 3 years. But even to the end the thing that calmed her was having a baby doll to care for. She was happy and smiling and always pleased to see people throughout her last years.
Dorothy died on 7 May 2020 with her daughters with her and will be sorely missed
Una Wynne
Passed away on Wednesday 13th May. Funeral on Wednesday 3rd June at Canley Garden Cemetery
Jim Horgan
Funeral Mass to take place on Tuesday 19th May at 9.30am
Jim (Gerald James) Horgan, late of Ealing & Hammersmith, at the age of 78, passed away peacefully on  "Thursday 7th May, 2020" in Nazareth House with his constant companion and devoted wife of 54 years, Rose, by his bedside.
He is survived by his devoted family – his loving wife Rose, his daughters Maura & Rosemary, son in law John, their 3 children Sean & his wife Krissy, Roisin & Cael, brothers Patjoe, John & Michael, their families and many cousins.
Born on 3rd June, 1941 in Lixnaw, County Kerry, Ireland to Mary & James Horgan, Jim was the eldest of 4 boys. Both as a child and an adult, Jim loved dogs and didn't believe dogs should be kept indoors, so chose to support Battersea Dogs Home instead of owning a dog himself. He read avidly until his declining health, relishing the access to news around the world that the internet gave him, becoming an avid silver surfer in later life.
After leaving school at 15, Jim left Ireland and migrated to England to earn a living working in hotels in Eastbourne, under the watchful eye of his Aunts Hanna & Kate. This started a lifelong love affair with Eastbourne, which Jim shared with his wife, their children and their grandchildren.
Upon turning 18, he moved to London and began a long career in Public Transport. First with London Buses, where he worked for 37 years, before retiring and then with British Rail and the Transport Police, fulfilling in part his dream to work in law enforcement, which he was unable to achieve due to poor eyesight.
Upon finally retiring for the 2nd time, Jim joined Age Concern, where he was recognized on numerous occasions for his service to the community and over 10 years of helping residents in Ealing, obtain the help and benefits they were entitled to.
Jim first met Rose at a dance at the Hammersmith Palais in 1964 which she was attending with her sister Alice. Initially only Alice would talk to him, but with determination he eventually won Rose over. Within a year they were married in Holy Trinity Brooke Green and a year later they had their first daughter Maura, followed by Rosemary the year after that.
For his honeymoon, Jim agreed to take his first and last return flight for 15 years with Rose to Majorca. They flew out in a storm and the turbulence in the small plane made Jim hate flying for ever more. However, 15 years later his daughters persuaded him to take them all to Spain for an Easter vacation and his love affair with Spain and travelling began, even though he continued to hate flying.
Over the next 50 years, Jim would travel with Rose, annually to Spain, often with other family members; many major cities in Europe; numerous places in America with his daughters and grandchildren, and even down to Australia to see Rose's brother and his family. Jim loved a deal so the trips were often last minute or via odd routes or by coach if it was Europe.
The first 10 years of Jim & Rose's marriage they lived in a maisonette in Shepherd Bush, attending Our Lady of Fatima church in White City, where the girls went to Pope John's Primary School. In 1975, the family moved to a 3 bedroom house in Ealing. Upon arrival in Ealing, Jim joined the Knights of St Columba chapter at St Peter &  Paul's church in Northfields, where he served in various roles, including Grand Knight, for over 40 years. Through the Knights, Jim helped organize numerous fundraising
activities to help the Knight's charitable causes and he and Rose were renowned for
catering the annual Christmas party.
Jim was a devoted family man and doting grandfather to Sean, Roisin and Cael. Nothing gave him more pleasure than spending time with his grandchildren either in America or in the UK. They shared a love of fun and football. "Grandad" had a deep and special relationship with each of his grandchildren from Sports, to Shopping to discussing History. Despite the distance, Jim had a close, special relationship with each of his grandchildren and they were as close as close could be. Together with his father and his brother John, Jim was a long suffering Fulham supporter and season ticket holder. His heart & nerves got a regular work out weekly every season, recovering just enough during the summer break to be ready to start
again, always with optimism for the next season. During the game, it was never just a game, it was life and death to the club and their supporters, like Jim & his brother John.
Jim will be buried in Hanwell City of Westminster Cemetery at 2pm Tue 19th May 2020.
Margaret Sweeney nee Hurley – Born 1St May 1939
Funeral Mass  Monday 18th May at 9.30am followed by the burial at Canley Cemetery at 11am.
Daughter of Jack and Bridget HurleySister of Michael, John and Pat. Mother to Pat, Theresa and Bernadette.  Nana to Gemma, Mia, Millie, Rosie, Fynn and Matilda
Whilst Margaret was born in Coventry only a few months before the start of the 2nd World War, her family decided to immediately move back to the family home in Cromane near Killorglin, Co. Kerry in Ireland.
This is where she grew up and attended the local school, Douglas National until the age of 13 when Jack and Bridie bought the family back to Coventry . Margaret  finished her schooling at St Mary's school atwhich time the family , lived in Hillfields , Bulls Head Lane and finally moving to  Bolingbrook Road, Coventry.
When Margaret  left school at 16 she worked for the GEC for a couple of years on the wiring tracks. She then moved careers becoming  a bus conductor, where she had years of fun and told of many stories of the great times ,particularly when the buses came in very handy to transport her and her friends to the various dance halls.
She met the love of her life John, at The Banba dance hall on the Foleshill Road,. Margaret loved dancing and would find huge amounts of energy to keep dancing all night and often into the early hours, this will remain one of the families fondest memories of Margaret.
Margaret and John courted for just over 2 years and they married, some 59 years ago on July 15th 1961.
Margaret then trained as an Auxillary Nurse and originally worked at Paybody Hospital before moving to Walsgrave in the early 60's. There was a slight problem with this occupation as she could not stand the sight of blood.
Patrick, Theresa and Bernadette were born when Margaret and John lived in their first family home in Stepney Rd,  Stoke, Coventry.  In 1967 the family moved to Coundon and have been an active part of our parish since then, living first in Forfield Rd;  then having a short stint at running a corner shop in Earlsdon; before returning to look after elderly ladies in their home in Coundon Road. They  moved  Kingsbury Rd and finally to Woodclose Avenue in 1995.
Margaret loved change and that extended to family homes, where, as you can see there were quite a few. She also liked renovating her homes, poor John never had a rest, he was either knocking down walls or building them back up again, plastering and painting amongst a variety of other projects.
When the children were small Margaret worked in Bablake School as a cook and made lifelong friends there, she was also given the name Liz as there were too many Margaret's in the team.  She then moved to cook for the elderly in the Eric Williams Care Home, she was the life and soul of any team and always up for and created a good laugh.
As a tribute to Margaret, her wonderful colleagues wrote the following poem on her retirement day in 2004 which the family thought summed up Margaret perfectly:
Well the time has come for you to leave here, 'cos let's face it Margaret you now an old dear.
In that kitchen with blood sweat and tears, that's the place you spent all those years
You'd bring us a dinner down on the truck, when asked what it was, you'd say "I'm not the cook"
You brought us sandwiches filled with fresh air, and now and again the odd grey hair
But when you were smoking in the smoke room you sat, for hours and hours chewing the fat
Then Sima would come and drag you away, and into the kitchen you would play
But that's all over its time to relax, no more national insurance or paying tax
It won't be long before John boots you in here, because we all know that's your biggest fear
But don't worry Margaret, we'll be gentle with you, we'll feed and bathe you and take you to the loo
So when it's your time we'll give you a ring, we know where to find you, in Christ the King
But stop all this messing we're serious now, Margaret we'll miss you, stand up and take a bow.
Margaret's health had  been deteriorating for the last 4 years with vascular dementia being added to her long term diabetes  but she certainly was a fighter  – in addition to the main illnesses,  during this time she also suffered 2 broken hips; a broken neck and  numerous infections recovering form each whilst still managing to keep staff on their toes and her family laughing when they visited her. Friends, neighbours and members of the parish have provided much needed love and support throughout these difficult times and John and the family would like you all to know how much this has been appreciated, thank you.
As a consequence of the care needed,  just over a year ago she  moved into Abbey Park care home and the family would like to thank all the staff who cared for her during this time and also huge thanks to the amazing staff at Walsgrave Hospital for their professionalism; dedication and compassion.
Even then Margaret fought right up to the end, even initially overcoming Corona virus, which she caught in hospital but this unfortunately left lasting damage and led to her peacefully slipping away from us in the early hours of May 5th.
Sadly her youngest child Bernadette died in 2016 and the family imagine the two of them will now be creating mischief in heaven, god rest their souls.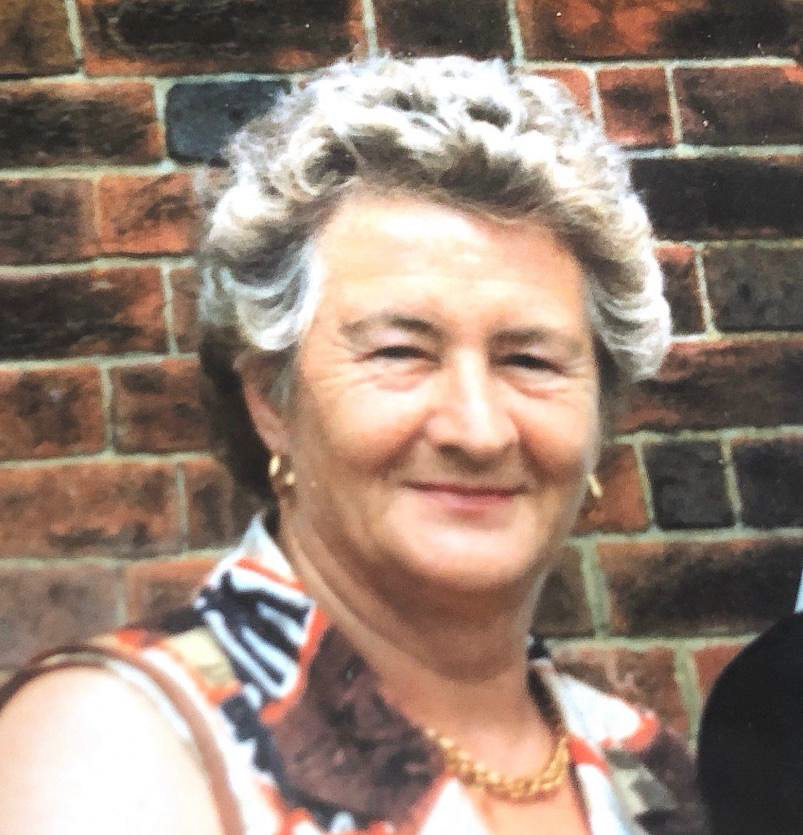 Patrick Higgins
Friday 15th May 9.30am at CTK Mass and 1pm Canley Crematorium
Patrick Joseph – known as PJ to everyone. Passed away suddenly at home. PJ was born in ballaghaderreen in county mayo Ireland in 1948. He was the 2nd son to Thady & Julia and brother to Junior & the late Aiden.  He moved to England in 1966 with his brothers where he began his working life as a chippy where he made many many friends and enjoyed the craic with them. After meeting his late wife Isobel whilst she was on holiday they married in the Gorbals in Glasgow in 1972 and then settled in Coventry where they then went on to have their three children, Paul, Julia and Theresa.
Children's partners are Paul – Vanessa, Julia – John, Theresa – Ian, Grandchildren: James
Jack, Josh, Charlie.  Living brother junior and wife Margaret and their children Chris, John and the late Joe. PJ Extended family in Glasgow, Coventry and Ireland.
Stella Griffiths (formerly Mulchinock)
Died 26th April 2020.  Funeral Thursday 14th May. Funeral mass online 9.30 Christ the King. Followed at 3.30 by a private cremation.  Donation in memory of Stella to Little Sisters of the Poor-donate (Birmingham home) https://www.littlesistersofthepoor.co.uk/donate-here/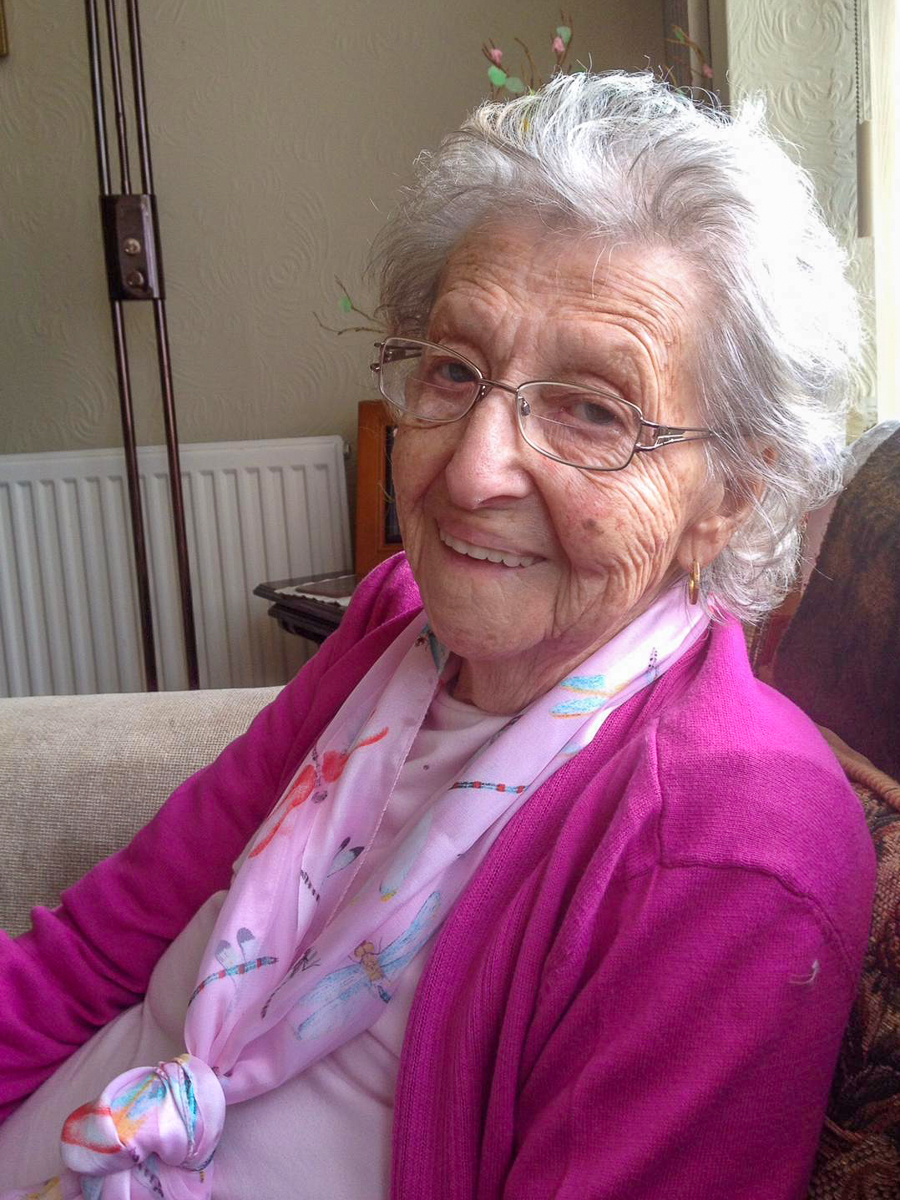 Karen Pollard
Funeral Mass CTK webcam 9.30am on Wednesday 13th May. Committal 11am Canley  Cannon Hill Chapel.
Edward McCooey
Funeral on Thursday 7th  May. Mass 9.30 am CTK webcam.  Burial 11 am Canley.
Stephen Sedgley
Funeral on Thursday 6th  May. Mass 9.30 am CTK webcam. Stephen  sadly died on 20/04/20
Stephen was a member of Knights of St Columbus at St John Fisher who meet at Christ the King.  The picture is of Stephen with his late mum Sheila Sedgley his best friend who sadly died in June of last year.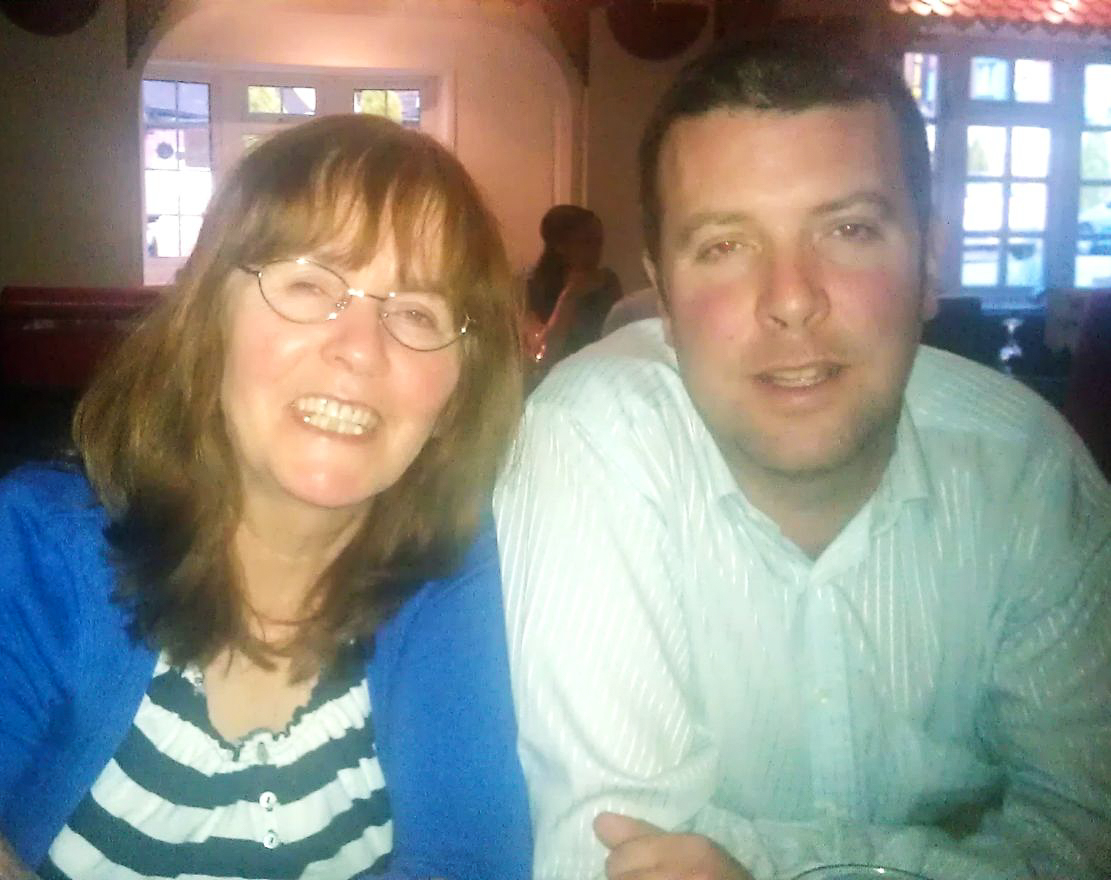 Anne Murphy 
Funeral Mass Monday 4th May 2020 at 9.30 am via live stream at Christ the King Church.
Firstly, to acknowledge all of the people who would have ordinarily attended in person, Anne's funeral.   Those relatives and friends who are also able to watch her funeral mass in Ireland, USA, Tasmania and Spain will no doubt have her in their prayers & sentiments.  Annie Rose Finnerty was born in Moygownagh, County Mayo on the 2nd May 1929. She was the sixth of eight children born to Anthony and Ellen Finnerty.  Her beloved siblings were Mae, Teresa, Lily, John, Tony, Patrick and Martin.
Anne was christened in St. Cormack's Church & attended Carn National School in the parish of Moygownagh.  She sustained a close, loving and nurturing family life with her parents & siblings in their family home and an everlasting loving bond was forged that remained between them all always.
Anne worked on the home farm until she finally left Ireland to find work in London, England in the 1950's.  Anne was already courting her future husband Jim and they married on St. Patricks Day – 17th March 1958.
Jim and Anne settled in London and had the first three of their children, before returning to Ireland to be closer to family members and to set up business.  They had their fourth child in Dublin before deciding to once again move to England for better work prospects.
Finally finding their family home in Coundon Coventry, they once again settled and had their fifth child.  Jim and Anne continued to raise their family of five children: Kevin, Bridget, John, Gerard and Maria.  They remained happily married before Jim sadly passed away in March 2000.
Their choice to finally settle in Coventry was well considered as they would be surrounded by close friends – whom they treasured dearly and were invaluable to them – many sharing backgrounds from Moygownagh, neighbouring areas of Mayo as well as other parts of Ireland.
Anne has bid her farewell to a great deal of friends and loved ones and suffered an individual loss each time – a true testament to the friendships & relationships she enjoyed with each one of them during life.
As well as being a much loved & respected mother in law to Tracy and Steve for over 35 years, Anne was a devoted Nana to seven grandchildren: Stephanie, Maria, Fiona, Sam, Charlotte, Milly and Louie.  She was also Great Nana to six great grandchildren: Isabella, Carter, Shay, Alexander, Ellie & Spencer.
Anne was a devoted Catholic and whose faith remained strong throughout her entire life.  She was able to say & hear her prayers right to the end and she was privileged to receive all of the sacraments as she was given her last rites in her own home shortly before she died.
Anne's life was all about what she could do for others.  Her legacy is one that will have touched so many people over the years and each individual will have their own memories of what that means to them.  She demonstrated unconditional love, care and concern for others and was selfless throughout.
Last January Anne enjoyed a unique experience devoted just to her, when over 30 nieces and nephews from Ireland reunited with her and the family in Coventry for a celebratory weekend.  Their 'Aunt Anne' was in the best of spirits and she thoroughly enjoyed everyone's company and the Craic.  A great memory to cherish and a time which we all treasure very dearly.
Anne placed immense importance on being prepared for her death and if possible, to have a peaceful and loving one…  Anne got her wishes and for that we are all truly grateful.
May she rest in peace.
Peter Ronan
Funeral Wednesday 29th April. Mass on Webcam 9.30am.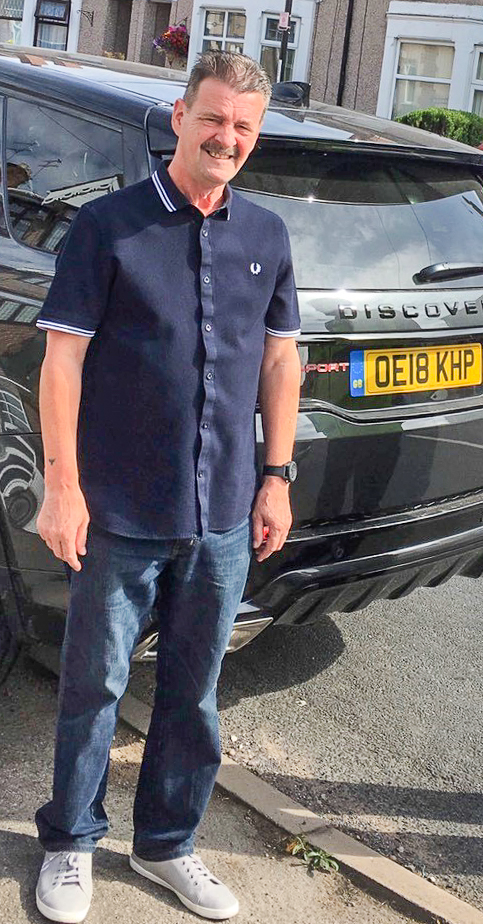 Peter Ronan was one of four siblings, born in 2nd September 1960. He was the second child of Micheal and Winifred Ronan (who was mainly known as Una.)   He was a little brother to Bernie and big brother to Christopher and Pauline. Peter was brought up in a loving and caring family.   He enjoyed spending time with his family especially their annual trip to the co-op camp site in Rhyl.  Pete was very athletic in his younger days, he enjoyed swimming, long distance running and was a member of the standard triumph boxing club where he trained alongside Micheal Christie brother of Errol where he got to the Warwickshire final of the ABA.   Pete attended Cardinal Wiseman boys school up until 1976. After finishing school he worked as a capstone operator, then doing a few various job roles before starting at Jaguar Land Rover in 1984 where he worked up until 2018 when he was medically retired.  Pete was firstly introduced to Linda in 1974 by his sister Bernie however it wasn't until 1987 when they began dating.   Peter was a gentleman and had old fashioned values, this was shown when he asked Linda's mothers permission for her hand in marriage. Peter and Linda got engaged in 1988 and married in 1989. His first child Siobhan was born in 1991 and his second child Karl was born in 1992. He was a doting father to both his children and a kind and loving husband to Linda. Pete was always very proud of his two children and was left broken hearted in 2018 when Karl passed away unexpectedly. He found some comfort in taking over the responsibility of looking after Karl's dog Skyla who he doted on.  Pete's untimely death has brought great sadness to his wife Linda, daughter Siobhan. Sisters Bernie and Pauline and brother Christopher.  Plus all of his in-laws: Julie, Paddy,Tracy,Sandra,Vince, Gary,Caroline, Sue and Ellen. And also by his extended family and friends which there are to many to name. Rest in peace until we are all reunited.
Sheila Treacy (Nee Herbert)  07/02/1935-14/04/2020 —Aged 85 yrs.
Funeral Tuesday 28 April. Mass on Webcam 9.30am CTK.  Committal at Canley.
Donations if desired, to Epilepsy or Cancer Charity of your choosing.
Betty O'Callaghan
Funeral Friday 24 April. Mass on Webcam 9.30am CTK.  Committal at Canley 1.30 pm